---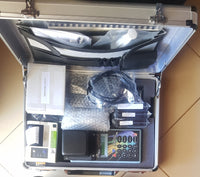 The NIR Seed Analyzer is specially designed for quick, accurate analysis of protein, moisture, and oil in small quantity samples. Light energy that enters the sample is scattered and absorbed within the sample. The NIR Seed Analyzer measures the spectra exiting the sample and directly displays the product's constituent concentrations. Using a small 20 gram sample, it is the industry's first and only patented NIR analyzer specifically designed for and proven to provide accurate analysis.
It is lightweight and completely portable, allowing analysis in the field, on the truck, or in the lab:
Seed Research Labs
Seed Breeders/Developers
Crop Specific Applications
Educational Applications
Simply pour the whole grain to be analyzed into the NIR Seed Analyzer sample holder, and place the cup into the analyzer. Once activated, it quickly measures the grain's protein, moisture, and oil concentrates and displays them on the analyzer's built-in LCD display or prints on the optional printer.
Now you can:
Know the full potential of the seeds you develop
Segregate your experimental seeds for
optimal plant population
Maximize your seeds' constituents
Maximize your profit
Technical Specifications
Function: Field analysis of grain for protein, moisture and oil.
Available Options:

Data Analysis Software – Full calibration software
Additional Calibrations – Up to eight (8) with three (3) constituents each at an extra cost

Printer – Mates directly to the analyzer or can be linked by cable; provides hard copy for time, date, sample number, moisture, oil, and protein analysis
Additional Sample Cup – Required for some grains
Carrying Case – Aluminium; holds the analyzer, sample holder, and accessories

Optical Capabilities:

Spectrum Range – 12 filters covering wavelengths from 893 to 1045 nm (standard)
Scan Speed – Up to 10 scans per second
Optical Range – 0 to 6 AU
Resolution – 0.0001 AU
Stability – 0.005 Mili-AU
Measurement Modes – Diffuse transmittance
Measurement Time – Variable (typically under 1 minute)
Measurement Data – Log 1/T value; 12 primary wavelengths

Sample Information:

Sample Size – 100 grams approximately
Sample Holder – Adjustable, reusable 5-30 mm cuvette for different grain sizes
Sample Destruction – None
Measurement Range – From 1.0% to 95%

Physical Data:

Dimensions – 26 x 12 x 9 cm
Weight – 1.5Kg

Installation Data:

Power Requirements – Batteries: 6 Alkaline 1.5V "AA", AC/DC Adaptor: 120 to 240VAC 50/60 Hz

System Capabilities:

Data Transfer – Via RS-232 port for interface with PC
Results – Approaches lab accuracy when calibrated to official laboratory tested samples
Calibrations – Standard HRS wheat and one additional grain. Capacity to store ten (10) calibrations
Temperature Compensation – Built-in: Instrument 5 °C – 45 °C, Sample -10 °C – 45 °C
Outputs – LCD display, optional printer
Delivery within 2-45 business days.
Ask for a quote.